Blade Grinder Tips
Last updated
KitchenAid Coffee Grinder Tips
Grind size
Blade coffee grinders are designed for grinding whole, unflavored coffee beans.
It is not recommended for extremely fine grinding such as for espresso machines.

The reason for this is that the longer grinding time required for very fine grinds can overheat the coffee grinds causing a burnt or bitter taste in the coffee.
Spices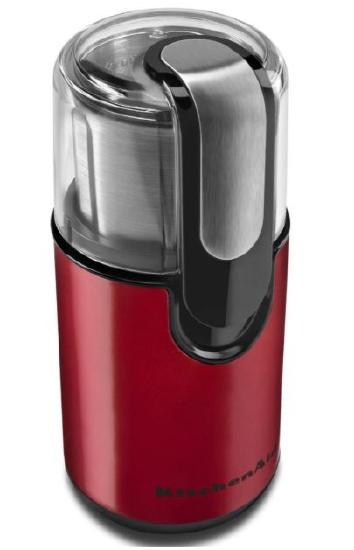 The BCG111 model can be used for grinding spices.
A spice grinding accessory is available that includes two shorter metal jars with plastic lids.
One of the lids can be used to retain freshness, while the other is designed with holes to distribute the spices.
KitchenAid does not recommend grinding spices in the BCG100 model Blade Grinder.
The reason for this is that the Blade Grinder was tested for coffee beans, not spices.

The Owner's Manual for this model, states not to run the grinder for more than 25 seconds, which is more than adequate for coffee beans.
Most spices take longer than 25 seconds to grind, in turn shortening the life of the motor.
Also, there is a plastic seal below the blade in the grinder that will retain the flavor of the spices and affect the flavor of coffee that is later ground in the unit.
If you would like to download or view product literature for your appliance, please visit our Manuals and Literature page.