How to Assemble and Use Cordless Food Chopper
Last updated
Assembling and Using Cordless Food Chopper
IMPORTANT: Make sure the Cordless Food Chopper is charged before using it.
Make sure that the speed controller is at the "O" position before attaching or removing any parts.
Hold the Handle facing front on the Base. Twist and lock the Bowl in the slots of the Base.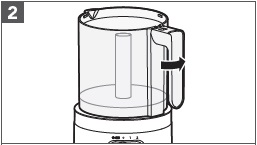 Rotate and lower the Drive adapter and then Multipurpose blade or optional Whisking accessory in the center of the Bowl until it rests at the bottom.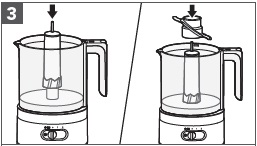 Add ingredients to the Bowl. Place the Lid on the Bowl. Twist and lock it into place. The Lid will click when properly locked into place.
NOTE: The Cordless Food Chopper will operate with either the Multipurpose blade or the Whisking accessory in place, not both. Do not try to use both at the same time.
Slide the Speed controller to your desired setting (1 or 2). Press down the Pulse/On button to start.
For a coarse chop, use a pulsing motion to rapidly press and release the Pulse/On button until your desired results are achieved.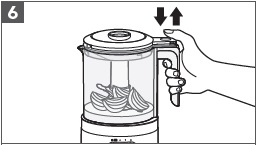 IMPORTANT: The Bowl and Lid must be locked into place for the Cordless Food Chopper to operate.
Use the Drizzle basin to conveniently add liquid ingredients while processing dressings, mayonnaise, sauces, and more. Use the Pour spout for easier serving.
Slowly pour liquids, such as oil, in the Drizzle basin. The liquid will be efficiently and thoroughly mixed into the ingredients as they spin inside the Bowl.
Once processing is complete, remove the Lid, Drive adapter, and Multipurpose blade to use the Pour spout.
CLICK HERE to watch a video for more information on the assembly and use of Cordless Food Chopper.
Still need help? Contact us or schedule service.
Please contact us or click below to make an appointment from our preferred list of service providers for service on your appliances.
Interested in purchasing an Extended Service Plan?
Please click below to learn more on how you can save up to 25% on New Appliance Extended Service Plans within 30 days of your appliance purchase.