Water or Food Inside Handle - Food Processor
Last updated
Possible Solutions
Was the Work Bowl cleaned properly?
Occasionally water and/or food particles get inside the small drainage hole at the bottom of the Work Bowl Handle. This occurs most frequently when the Work Bowl is soaked in a sink full of soapy water. It can also happen if the Work Bowl has been washed in the Dishwasher with un-rinsed dishes.
The water will typically evaporate with time, although sometimes food particles remain inside the handle.
Suggestions
Wash and dry the Work Bowl in the sink right away rather than soaking it in the water.
If cleaned in the dishwasher, do not combine with un-rinsed dishes. The spray action of the dishwasher should help dislodge the food particles.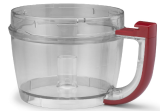 ​
Still need help? Contact us or schedule service.
Please contact us or click below to make an appointment from our preferred list of service providers for service on your appliances.
Interested in purchasing an Extended Service Plan?
Please click below to learn more on how you can save up to 25% on New Appliance Extended Service Plans within 30 days of your appliance purchase.
​ ​
​