Inserting the Beaters - Hand Mixer
Last updated
Installing the Beaters for the KitchenAid Hand Mixer
IMPORTANT: Make sure that the Speed controller is at "O" position before attaching and removing the beaters.
Inserting Beaters
KitchenAid® hand mixer beater are designed to be inserted in a specific manner to work together to incorporate ingredients best. On the underside of the hand mixer, there is a diagram that shows which beater goes in which opening. One beater has a "collar," and the other does not. The diagram depicts how to properly insert the "collared" and "uncollared" beaters.
When Using a Pair of Accessories Beaters
Insert the accessory shaft with the collar (A) into the larger opening (D) of the hand mixer as shown below. Align the flanges on the shaft with the slots in the opening. Push to lock into place.
Insert the accessory without a collar (B) into the smaller opening (C). Align and push to lock into place. Both the Stainless steel turbo beatersTM II will click in.
Using a Single Beater
An accessory shaft without a collar may be used in either opening (C or D). Those with a collar may only be used in the larger opening (D).
To Remove Accessories
Press the Ejector Button (E) to release the accessories from the Hand Mixer, then remove them.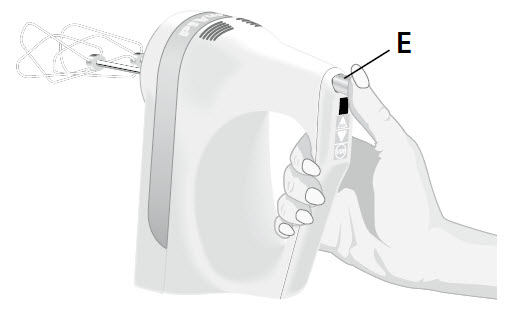 ​
Still need help? Contact us or schedule service.
Please contact us or click below to make an appointment from our preferred list of service providers for service on your appliances.
Interested in purchasing an Extended Service Plan?
Please click below to learn more on how you can save up to 25% on New Appliance Extended Service Plans within 30 days of your appliance purchase.
​ ​
​