Flip and Stir Wand Not Flipping
Last updated
If Flip and Stir Wand is not flipping in KitchenAid Multi Cooker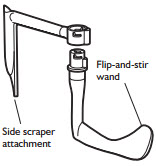 The Flip and Stir wand will only flip if there is enough food to be flipped.
If there is too little food, it will only stir.
If it is not flipping, add a little more food in order to engage that function.
If you would like to download or view product literature for your appliance, please visit our Manuals and Literature page.