Pasta Roller and Cutters
Last updated
There are two ways to make pasta - the roller method and the extrusion method.
KitchenAid has attachments that will fit any stand mixer to help you create fresh pasta quickly and easily using either method.
Extrusion Method
The extrusion method (KPEXTA) makes shapes with "holes in the middle" (rigatoni, buccatini, macaroni) as well as spaghetti and fussilli.
Walnut sized balls of dough are inserted into the KPEXTA and the pasta is extruded (pushed out) the bottom of the attachment, where it is then cut to the desired length.
Roller Method
With the roller method, the dough is rolled into flat sheets with the roller attachment, dialing it to the desired thickness.
When all dough is rolled, you can either cut it by hand into various flat shapes, or then switch to the desired cutter attachment (spaghetti, fettuccini, angel hair or thick noodles).
The Pasta Roller and cutter attachments come in several different configurations:
KPSA - the roller alone
KPRA - includes the roller and two cutters:
KPCA - additional cutters, including:

wide "kluski" like noodles
angel hair
KRAV - Ravioli Maker
KPEX - a deluxe kit that includes all of the above (roller, all cutters and ravioli maker).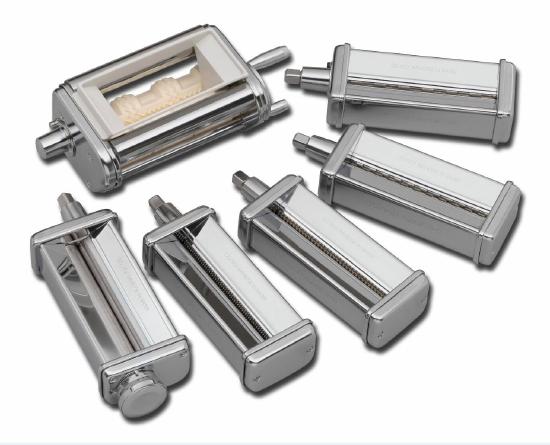 Please visit http://www.kitchenaid.com/shop/countertop-appliances-1/stand-mixer-attachments-3/102020154/ to view all pasta attachments.
NOTE: It is important to consider what type of pasta you may want to make in future because individual cutters are not available for purchase.
The roller is has a dial that can be used to roll the dough to the desired thickness.
TROUBLESHOOTING:
Dark spots/streaks in dough
There is a "food-safe" lubricant applied to the roller and cutters during the manufacturing process to lubricate the rollers and help prevent rusting.
This lubricant may be seen on the pasta dough and appears as dark spots or streaks.
Usually this will cease after the first use.
If you see spots in the dough:
Hold a damp paper towel on the underside of the rotating roller to help remove excess lubricant from the roller. I
Do not run the paper towel through the roller.
Holes or tears in dough
If the pasta dough is rolled too thin, it may cause holes or tears in the dough. Change to a thicker setting.
Cutter not cutting
If your cutter does not cut all the way through the dough, the dough may be too wet. Add a little flour.
Roller not rolling
If your roller does not roll or cutter does not cut after adding flour to wet dough:
Please Contact Us for further assistance.
Roller or Cutter not fitting/staying in power hub
Please Contact Us for further assistance.