How to Assemble the Ice Cream Maker - Bowl-Lift Mixer
Last updated
How to Assemble the KitchenAid Ice Cream Maker - Bowl-Lift Mixer
Before first use Before using your attachment, remove the "Do not immerse in water" label. The dasher is dishwasher safe. The freeze bowl and drive assembly must be washed by hand.
Attaching the Ice Cream Maker for Bowl-Lift Mixer
Turn Stand Mixer OFF and unplug.
Place bowl-lift handle in the down position and remove the mixing bowl.
Fit the freeze bowl in place over the locating pins. Press down on the back of the freeze bowl until the bowl pin snaps into the spring latch. NOTE: The freeze bowl is designed to fill all bowl-lift mixers. If the bowl pin at the back of the bowl is too short or too long to snap into the spring latch, remove and rotate the bowl, so the opposite bowl pin faces the spring latch. Repeat step 3
Place the dasher inside the freeze bowl.
Attaching the Drive Assembly for the Bowl-Lift Mixer
Be sure the Stand Mixer is off and unplugged.
Make sure the bowl-lift handle is still in the down position, and the freeze bowl and dasher are in place.
Position the drive assembly onto the mixer, so that side B is closest to the beater shaft. Slide drive assembly onto the motorhead until it does not slide any further.
When correctly assembled, the outer curved edges of the drive assembly should center on the motorhead. If they are not centered, slide the drive assembly either back or forward until it is centered on the motorhead. Make sure the drive assembly is securely in place by pressing upward.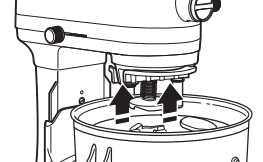 Raise the bowl to engage the dasher with the drive assembly before mixing. If the drive assembly doesn't engage the dasher, slide the drive assembly either back or forward until it does engage the dasher properly.
Plug the Stand Mixer into a grounded three-prong outlet.
​
Still need help? Contact us or schedule service.
Please contact us or click below to make an appointment from our preferred list of service providers for service on your appliances.
Interested in purchasing an Extended Service Plan?
Please click below to learn more on how you can save up to 25% on New Appliance Extended Service Plans within 30 days of your appliance purchase.
​ ​
​