Tilt Head Stand Mixer Does Not Lock or Mixer Head Moving
Last updated
How to Lock Tilt-Head of KitchenAid Stand Mixer
Tilt-Head Mixer Lock
The purpose of the lock lever is to lock the motorhead in place it does not move up and down during mixing.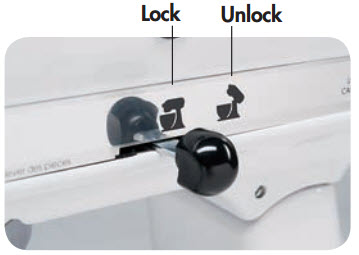 The motorhead should always be locked before using the mixer.
When pushing the lock lever over to the lock position, it may not move all the way to the right.
As long as the lock lever is as far over as it can go and the head does not move when you try to pull it up, the head is locked in place.
The Beater to Bowl Clearance being out of adjustment (too high) can prevent the locking mechanism from working.
Adjusting the clearance will almost always fix the locking mechanism.
If you would like to download or view product literature for your appliance, please visit our Manuals and Literature page.