Which Stand Mixer is Right for Me?
Last updated
Different features of KitchenAid Stand Mixers
KitchenAid® makes stand mixers in two styles, a myriad of colors, and sizes ranging from 3.5 to 8-quart capacities in various price ranges.
With so many to choose from, how do you determine which one is right for you?
Things to consider:
All KitchenAid® stand mixers utilize the same unique planetary action, regardless of mixer size.
All models have sufficient power to accommodate the bowl capacity.
The Two Types of Stand Mixers: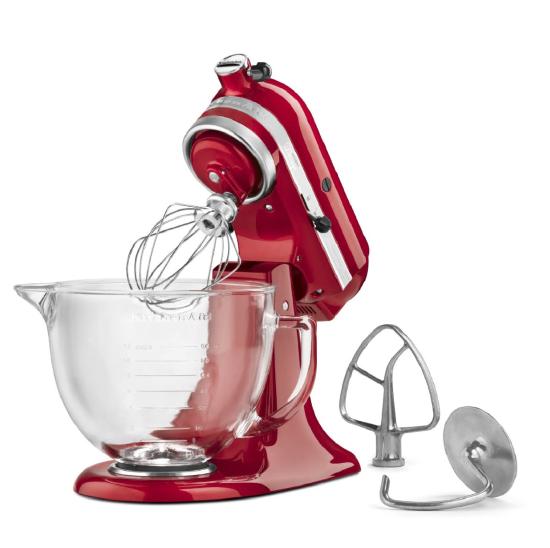 Tilt-Head
The head of the mixer tilts back from the base, and the bowl is attached to the base.
Capacity: 3.4, 4.5 and 5 quarts
The tilt-head style makes it easy to access the beaters. Simply tilt the head back and remove them. The head locks into place when mixing.
This type of mixer is also slightly shorter, so it is a consideration if you have low hanging upper kitchen cabinets. (2.5"-3" shorter)
Comparison of our two most popular tilt head models:
The Classic:
4.5-quart capacity
White only
No handle on the bowl
No pouring shield
The Artisan:
This 5-quart model is our most popular mixer for many reasons:
Our largest tilt head mixer (5 quarts)
The array of colors - the most of any model
Pouring shield
Ergonomic handle on the bowl
Often comes with a rebate - either cash back or a free attachment
Bowl-Lift
The bowl sits on the "arms" of the mixer and is raised with a lever. The head of the mixer is stationary.
Capacity: 4.5-8 quarts
Large Capacity
Spiral Knead dough hook on select models
Professional look
Many models to choose from
The Artisan Mini:
If space and weight are significant considerations, the Artisan Mini is shorter, lighter and has a smaller footprint, but has the same mixing action and robust motor.
3.5-quart capacity.
Mini Mixer. Powerful Performance.
The Artisan® Mini tilt-head stand mixer makes up to 5 dozen cookies in a single batch, with the same power as the full-size KitchenAid® tilt-head Stand Mixers while being 20% smaller, 25% lighter*.
*KitchenAid® Artisan® Mini compared to the full-size KitchenAid® tilt-head Stand Mixers.

Weight: 18 lbs.
Depth: 12.3 "
Height: 12.3
Width: 7.8
Part of choosing a mixer is a personal preference.
Some prefer tilting the head back to access the beater easily.
Some choose bowl lift mixers because they prefer the professional look.
Some find it more difficult to remove the bowl and beaters on a bowl lift mixer, mainly if they have been accustomed to a tilt head, while others have no issue.
It sometimes helps to go to a store and assemble the bowl and the beaters to see which "feels" best to you.
Do you need a large capacity mixer?
Do you regularly make double or triple batches?
Do you have a large family?
Do you make a lot of bread?

You can make bread in any size stand mixer, but if you make large quantities, you may prefer a model with a spiral knead dough hook, which comes with select models of bowl lift stand mixers.
If so, you may prefer a bowl lift mixer, which comes in capacities of 4.5 to 8 quarts.
Is color a consideration?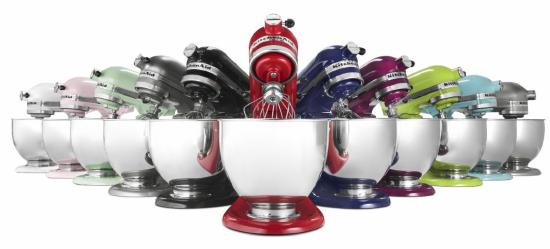 KitchenAid® makes over 50 colors and finishes.
Not all models come in all colors.
The Artisan model has the most color and finishes options.
Space considerations:
Tilt head mixers are slightly shorter (3") than bowl lift mixers, which can make a difference if you have low hanging upper kitchen cabinets.
Tilt-Head Height: 14.0"
Bowl-Lift Height: varies from 16 7/16" to 17."
Do you like to put your beaters in the dishwasher?
Some models come with white-coated beaters, which can go in the dishwasher.
Other models come with burnished aluminum beaters, which must be hand washed and dried immediately.
KitchenAid® sells replacement beaters in both finishes for all mixers.
Do you prefer a handle on your bowl?
KitchenAid makes bowls in Glass, ceramic and stainless in various sizes with several handle options:
Some models come with a bowl with no handle.
Others have a flat "strap" handle.
Others have a comfortable, ergonomic handle.
What type of bowl do you prefer?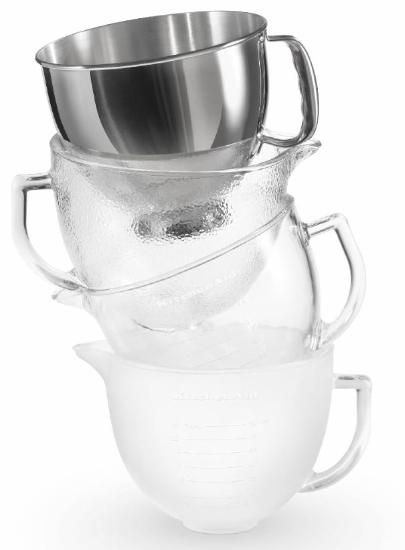 Glass
Clear Glass with measurement markings.

Available for all tilt head and select bowl-lift models.

Frosted Glass - tilt head only
Hammered Glass - tilt head only
Ceramic - decorative colors - tilt head only
Stainless Steel - from 3 quarts to 8-quart capacities available.
Available for both bowl lift and tilt head models.
NOTE: It's nice to have an extra bowl when doing holiday baking, or to have a spare when one is in the dishwasher.
Pouring Shield:
Some models come with pouring shields, to aid in adding ingredients, and prevent splashing.
KitchenAid® sells pouring shields for almost every model, except for the glass bowl models.
Visit kitchenaid.com to view the entire collection of stand mixers or please Contact Us to assist you in finding your perfect mixer.