Puddling on Items - Bottom Rack - Dishwasher
Last updated
Possible Solution
Is Rinse Aid being used?
Using rinse aid will optimize your drying and wash performance. This dishwasher is specifically designed to be used with rinse aid for improved drying performance and controlling buildup of hard water deposits. The use of rinse aid greatly improves drying by allowing water to drain from the dishes after the final rinse. Rinse aid also keeps water from forming droplets that can dry as spots or streaks.
NOTE: Plastic and items with nonstick surfaces can be difficult to dry because they have a porous surface, which may collect water droplets. Towel drying may be necessary.
CLICK HERE to watch a video on how the rinse aid works
CLICK HERE for more information on using rinse aid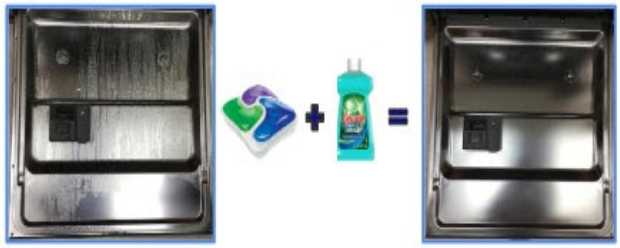 Does the Rinse Aid need to be adjusted?
For most water conditions, the factory setting will give good results. If you have hard water or notice rings or spots, try a higher setting. Turn the arrow adjuster inside the dispenser by either using your fingers or inserting a flat-blade screwdriver into the center of the arrow and turning.
Higher numbers dispense more rinse aid. You should change this setting only a little at a time and then run a few cycles before changing it again because just enough rinse aid is more effective than too much.
CLICK HERE for more information on using the Rinse Aid dispenser and adjusting the Rinse Aid dosage.

Does the Rinse Aid need to refill?
The dispenser holds 5 oz (150 mL) of rinse aid. Under most conditions, this will last 1 to 3 months. Check the indicator while the dishwasher door is fully open (level). If the rinse aid is empty the indicator will appear clear. The color of the dispenser will depend on the color of the rinse aid you are using.
Were the dishes loaded correctly?
Loading items in a manner that water does not pool during the wash cycle will help with drying these items. Place glasses in the upper rack between the wire tines, not over the top of the tines, these tines can create water spots. Use the tines to angle all flat or concave surfaces as much as possible to allow water to drain off the item. Rinse Aid may help reduce puddles by allowing water to sheet off the items at shallower angles.
NOTE: Plastic items are especially difficult to load in a way to promote drying due to complex shapes. Also, plastic does not conduct heat like glass or ceramics. If available, load your plastic cup, bowls, and mugs in the third level rack for best dry performance. Don't put plastic items in the lower rack. Plastic items are less likely to deform when loaded in the top rack.
CLICK HERE for more information on how to load dishes in the dishwasher correctly.
Is the water temperature set correctly?
This dishwasher has a water heating feature but it requires a connection to a hot water supply line. The hot water supply line should supply a minimum of 120°F (49°C) water to the dishwasher for best wash and dry performance.
Was a heated or dry cycle used?
Ensure a heated dry cycle was selected and/or the option was selected. Check your User's Manual for cycle details and information.
Most dishwashers will have the following dry options - air dry (no indicator light displayed or specific option), Heat or Pro Dry option for smaller loads, or Extended Dry option for large loads. The default option will be the Heat or Pro Dry option, which should provide good results. If the Heat or Pro Dry option did not dry the load in the way you desired, select the Extended Dry option. Using this option will extend the dry time for 15 minutes and will likely lead to even better drying performance.
Still need help? Contact us or schedule service.
Please contact us or click below to make an appointment from our preferred list of service providers for service on your appliances.
Interested in purchasing an Extended Service Plan?
Please click below to learn more on how you can save up to 25% on New Appliance Extended Service Plans within 30 days of your appliance purchase.