Possible Solutions
Does your water filter need to be replaced?
It is recommended that the water filter be replaced every 6 months, when the indicator light comes on, or as needed. A clogged water filter can cause several issues including reducing the amount of ice being produced or dispensed. Replacing your water filter regularly will also help reduce the amount of containments in the water supply.
Is the water filter installed correctly?
If the water filter is incorrectly installed it can reduce the water flow to the water dispenser, which could cause the ice maker from functioning properly.
CLICK HERE for additional information on how to install your water filter.
Is the Control Lock or Dispenser Lock on?
The dispenser can be turned off for easy cleaning or to avoid unintentional dispensing by small children and pets. The lock feature does not shut off power to the refrigerator, to the ice maker, or to the dispenser light. It simply deactivates the dispenser controls and pad.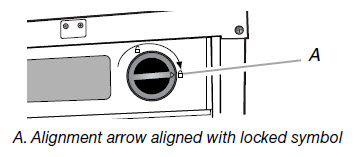 Is the correct saddle valve installed?
Having the incorrect saddle valve installed can lead to the issues like low water pressure.
A low volume of water flow will cause small, hollow ice cubes or decreased amount of water dispensed. Be sure to use a ¼" type valve that requires a drilled hole.
It is not recommended to use a self piercing type or a 3/16" saddle valve, both of which clog easily.
Is the water line connected to a water supply and turned on?
Make sure the water supply is properly connected to a cold water supply and the water shutoff valve is fully opened.
Check to make sure there are no kinks in the water supply line. A kink in the line can reduce water flow. Straighten the water source line to restore adequate water flow and pressure. To help reduce the chances of a pinched water line, do not push the refrigerator too far back against the wall or cabinet.
Still need help? Call or schedule service.
You may need assistance from a qualified technician. Call 1-800-422-1230 or click below to schedule an appointment.