Which Beater do I Use?
Last updated
Types of Beaters to Use in KitchenAid Stand Mixer
Which beaters should I use for my mixer?
The best beater to use with your mixer for optimal results depends on what you're making. Every mixer comes with a flat beater, dough hook, and wire whip. Some mixers come with a flex edge beater, a double flex edge beater, or a pastry beater as well. Each of these beaters has a unique purpose in your baking portfolio.
When should I use the flat beater?
The flat beater is your multi-purpose beater. Use this for mixing cakes, cookies, frostings, and other batters. The planetary mixing action of the mixer, combined with the bars in the flat beater, gives you thorough ingredient mixing for your recipes. The flat beater can do everything from basic stirring to creaming butter against the bowl. Use this tool like you would use a spoon if you were mixing by hand.
Folding Ingredients: Use ½ speed, or fold speed. This beater will gently fold in delicate ingredients or air into a mixture to ensure you keep the right consistency.
Ideal speeds: Use low to medium speeds (speeds 1-6) for mixing and creaming ingredients together. These speeds ensure thorough ingredient incorporation and less mess.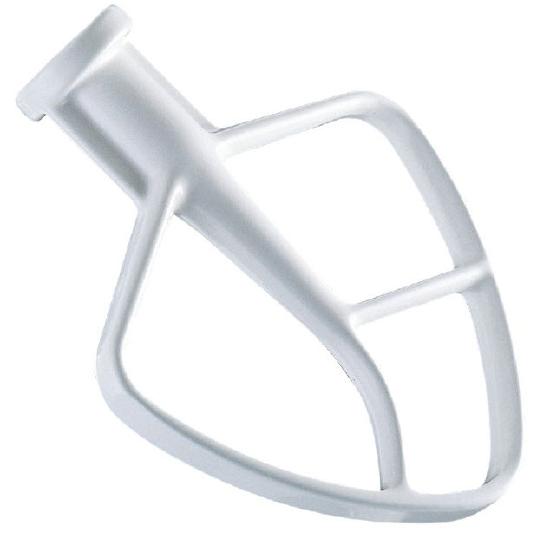 When should I use the wire whip?
The wire whip is ideal for whipping creams and egg whites and was designed specifically for whipping air into mixtures. You can quickly whip at high speeds to get stiff peaks for meringue, whipped cream, marshmallow, and other treats.
The whip is not the ideal tool for folding because your ingredients can pool in the middle. Although many bakers assume the whip would be similar to a hand mixer whip, it is not; it is much more like a hand-held whisk. The whip is much larger than a hand mixer tool (which is why heavy ingredients could pool in the middle)
Ideal speed: Use medium to high speeds, speeds 4-10. These higher speeds help whip air into your mixture.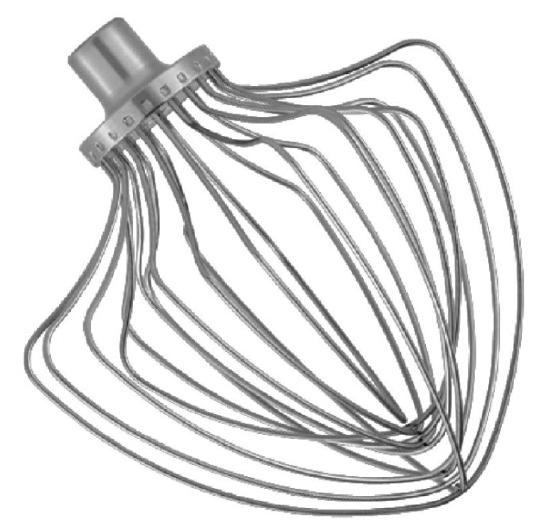 When should I use the dough hook?
The dough hook is the best tool for kneading doughs, like breads, pizza dough, and pasta dough. The dough hook takes the place of hand kneading, but it does it much faster. Speed 2 gives the best results for kneading, and the mixer can knead most yeast doughs within 5 minutes. Even if a recipe says to use a higher speed or to knead for longer, it's best to use Speed 2 for around 5 minutes for optimal results. Using the dough hook as your kneading tool and kneading only on Speed 2 is good not only for your recipe results but also for limiting strain on the motor, ensuring your mixer lives a long and happy life.
"C" Dough Hook "PowerKnead" Spiral Dough Hook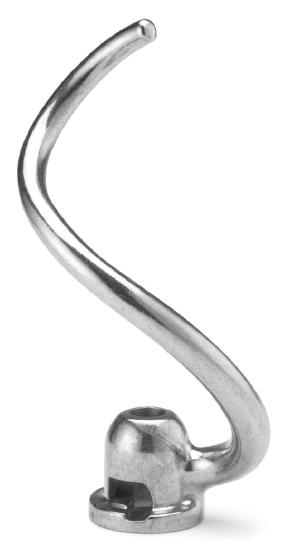 When should I use the flex edge beater?
The flex edge beater is optimal for mixing and creaming ingredients. The spatula edge scrapes the sides of the bowl so you don't have to stop your mixing to scrape by hand. Use this tool for any recipes that require creaming butter and sugar, like cookies, cakes, and frostings. This tool is also great for any recipe where you frequently need to stop and scrape the bowl, like cheesecakes and cream cheese dips. The best speeds for the flex edge beater are low to medium speeds, 1-6. These speeds ensure thorough ingredient incorporation, optimal creaming, and less mess.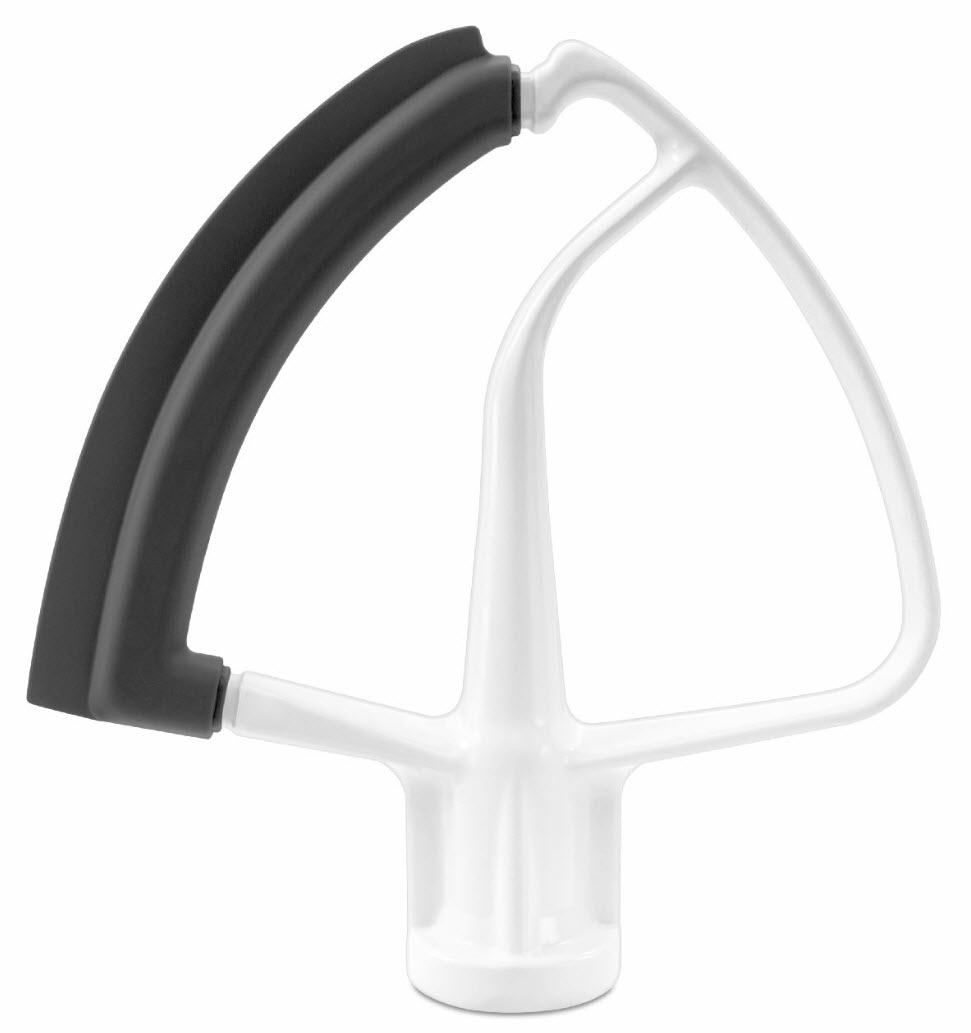 When should I use the pastry beater?
The pastry beater is the optimal tool for cutting butter into flour to make pastries like pie dough, tart dough, biscuits, and scones. It takes the place of a handheld pastry cutter to give you light, flaky pastries with less effort. The optimal speed for cutting butter into flour is speeds 2-3. The pastry beater breaks down butter to pea-sized pieces within 1-2 minutes and into breadcrumb-sized pieces within 2-3 minutes.
The pastry beater is also a great tool for mashing fruits and vegetables and shredding meats. You can use up to Speed 2 for these types of dishes. Use of a higher speed can sometimes cause ingredients to splash out of the bowl.
The pastry beater is not a good choice for bread doughs, like pizza doughs. It's best to use the dough hook for any recipes that require kneading. If you are making a quickbread, like banana bread, that doesn't require kneading but does require thorough mixing of ingredients, you can use a pastry beater (or a flat beater).
If you would like to download or view product literature for your appliance, please visit our Manuals and Literature page.