Which Flex Edge Beater Fits a Mixer?
Last updated
Types of Flex Edge Beater for KitchenAid Mixer
KitchenAid® manufactures a silicone edged beater that allows you to mix and scrape the sides of the bowl at the same time, minimizing the need to stop the mixer and use a spatula to scrape down the sides of the bowl.
The KitchenAid® Flex Edge beater comes in several sizes to fit most stand mixers.
Using a non-genuine silicone scraping beater could damage your mixer and void your warranty as to any damage caused by such a non-genuine part.
It is essential to use the correct size Flex Edge Beater for your mixer.
Tilt-Head Glass and Stainless Bowl Mixers:
The KFE5T fits all 4.5 and 5-quart tilt-head mixers, except the Accolade Mixer KN15E1X.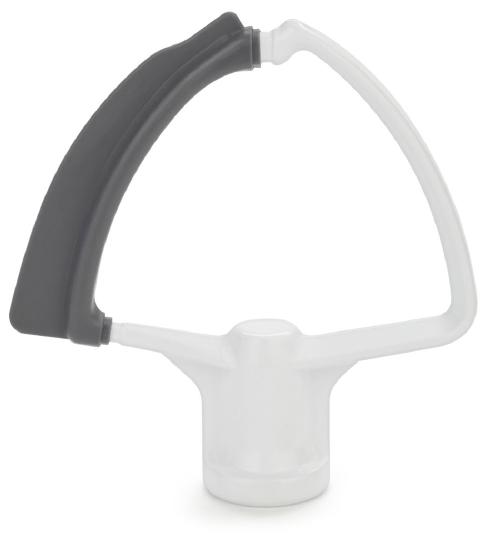 The KFE35T fits the 3.5-quart Artisan Mini: KSM3311, KSM3316
Bowl-Lift Stainless Bowl Mixers:
The KFEW6L fits select wide mouth 5 quart and all 6-quart mixers: KD2661, KL26M, KP26M1, KP26M8, KP26N9, KV25G, KV25M.
Bowl-Lift Glass Bowl Mixers:
The KFEF6L is explicitly designed to work with 6-quart glass bowl lift model head mixers: KSM6521X, KF26M2X, KSM7
The KAFE7L fits seven and 8-quart mixers: KSM7581, KSM7586, KSM7990, KSM8990
Model Not Listed Above?
KitchenAid® does not currently make a Flex Edge Beater for the following narrow bowl models: K4SS, KSM450, KSM455, K5A, K5SS, KSM50PS, KSM50HDP, KSM500, KSMC50, KM25G0X, KG25H0X, KG25H3X, KG25H7X, KSM6573.
If you have further questions or would like assistance in purchasing the correct size Flex Edge Beater, please Contact Us .